Digital Printing :
We do both black & white and color high speed digital printing.
High-Quality
Our facility has high-speed digital/Xerox departments.
We offer a useful balance of "workhorse" black & white output machines to handle your short-run, multi-page, repeat-output projects, as well as state-of-the-art digital color and variable data printing that will make your sales and marketing materials stand out from the crowd.
Black & White Digital Printing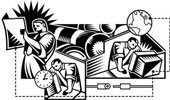 Print/Copies :
Need a straightforward copy job in a hurry, perhaps with collating and stapling? Don't be afraid to expect more from us. Sometimes the small, quick turn-around jobs are the ones that carry the most weight in your office. So, when you're preparing for that next big meeting or trade show, we're here for you – as your one-stop print solution!
Color Digital Printing
Color Output :
Expect more from Xerox and Konica digital color printers. From short-run, color flyers to full variable-data, we've got you covered.
For further information please
Contact Us